Oct 14, 2010
Object-Oriented Programming in ColdFusion Book OUT NOW
Today is a very exciting day for me - my first book "Object-Oriented Programming in ColdFusion" is out NOW!
Oooooh, exciting!
I know, right?
Gimmee Some Details
Published by Packt Publishing, it is a handy-sized 192 pages or so, and full of ColdFusion OOP goodness.
Oct 14, 2010
Generate QR Codes with bit.ly ColdFusion Component
This morning I released an updated version of my bit.ly ColdFusion CFC Wrapper, which is now at version 2.0.
The core reason for the update was to provide the new methods now included within the official bit.ly API.
What's changed?
There are four official new methods that have...
Oct 8, 2010
Introducing HTML5 Book Review
Co-authored by Bruce Lawson (@brucel) and Remy Sharp (@rem), this little gem of a book has been eagerly anticipated by developers and designers alike.
216 pages in length, its...
Sep 17, 2010
Caption Competition
It's Friday (always awesome), and what better way to celebrate than with a competition.
This week's request is nice and easy; in lieu of the fact that Scotch on the Rocks 2011 is rapidly approaching us (although we have to shift through Christmas first.. *sigh*), check out the picture below from...
Sep 13, 2010
Moving to ColdFusion Builder
Shiny and New
This morning see's the relaunch of the Adobe Developer Connection site, a fantastic site packed with resources and information on the various Adobe products, including ColdFusion (of course).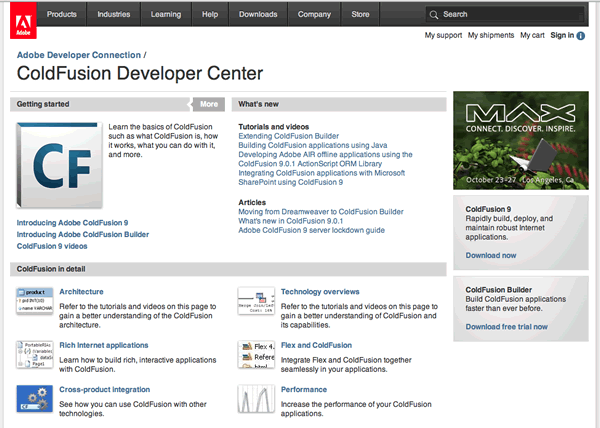 Congratulations to the web...
Sep 13, 2010
monkehTweets ColdFusion Twitter CFC Update
Following on from a change in authentication protocol at Twitter HQ, monkehTweets stopped working at the end of August.
The previous release of monkehTweets used only the Basic Authentication method, which sent the username and password through as a header in the HTTP request for all API calls. Twitter decided to...
Sep 1, 2010
SOTR 2011 Speakers Revealed
The Scotch on the Rocks team have unveiled the list of speakers who will be presenting at SOTR 2011 in Edinburgh on 3-4th March 2011.
The list is incredibly impressive across the board, and these are just the names; just wait until we release...
Aug 31, 2010
ColdFusion 9.0.1 Cumulative Hotfix 1 Released
Adobe have released a ColdFusion 9.0.1 Cumulative Hotfix 1 (CHF1), which address a number of issues.
If you haven't already done so, check out the official hotfix release and update your servers.
Aug 24, 2010
Raise money and win a copy of ColdFusion Builder
For any who have not yet seen, Russ Johnson (@russ_johnson on Twitter) fellow ColdFusion ACP, community member and all-round good-guy is taking up a fantastic personal challenge and raising money for a superb cause at the same time.
Russ will be cycling 150 miles for...