Nov 22, 2011
monkehTweet release and Twitter update_with_media enhancements
This morning I pushed out the latest release of monkehTweet, the open-source ColdFusion wrapper to interact with the Twitter API.
There are a number of revisions, enhancements and changes to the code and the service layer.
Firstly, and very important for anyone using the older versions of the package - I went...
Nov 22, 2011
Going Social with APIs - Web Designer Magazine Issue 190
Issue 190 of Web Designer magazine is now available in the shops, and the main feature co-written by me discusses social networking APIs and how to integrate them into your sites or applications.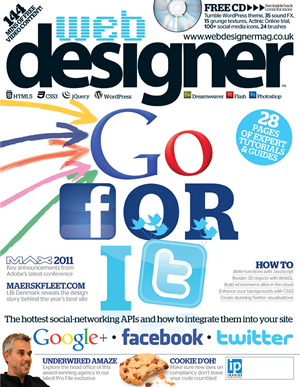 In the article I show you how to...
Oct 17, 2011
Back from MAX - (belated)
This post is a little overdue as I left LA and MAX on 5th October, but I've been enjoying some much needed time off since then.
How was MAX?
Simple answer is "awesome".
Most if not all of you by now should be aware of the major announcements made during the keynote presentations....
Sep 14, 2011
monkeh at Adobe MAX
Adobe MAX is almost upon as and I am gearing up for the trip out to Los Angeles to revel in all things geeky and Adobe-tech. I'm going to be a busy monkeh whilst out there with three sessions, details of which are below.
I'm really looking forward to going out again,...
Aug 24, 2011
Adobe ColdFusion Developer Week
An entire week of free online sessions dedicated to ColdFusion development and general awesomeness. That's right, an entire week!
Adobe have released the details and schedule for the ColdFusion developer week sessions - a series of webinars hosted by seasoned ColdFusion experts and industry leaders. There are a total of eleven...
Aug 17, 2011
Github Post-Receive Custom ColdFusion Hook
I love writing open source ColdFusion apps.. it helps to grow the community, possibly fill some gaps or requirements, and allows me to keep learning and experimenting with code and processes.
All of my open-source releases are pushed to riaforge.org (which should be EVERY...
Aug 1, 2011
How I got started in ColdFusion
This is in response to Steve Bryant's original post and idea.
It always puzzled me how my fellow school leavers and peers knew what they wanted to be when they "grew up". With a world of possibilities out...
Aug 1, 2011
Adobe Edge Public Preview Available Now
Today is an exciting day for anyone wishing to take the leap into HTML5 animations and CSS3 transitions as Adobe have released their interactive tool Edge, now available for public preview via Adobe labs.
Build interactive layouts and animated transitions with ease using the new tool. Free to download and experiment...
Jul 29, 2011
.net Magazine awards 2011
This year sees the return of the .net awards organised by the fantastic .net Magazine.
Now in its 13th year, the awards are now open for public voting. Good news for Adobe, the superb Dreamweaver CS5.5 release has been nominated for Innovation of the Year.
I...
Jul 21, 2011
"How I got started in ColdFusion" day
An important date for everyone's diary - August 1st 2011 - "How I got started in ColdFusion" day.
Steve Bryant has suggested what I think is a fantastic idea, and that is for everyone to write a blog post (or submit as a comment on...